She is an artist from Korea.
Since I got to see a great experimental art work of her there,
and it's related to "FASHION",
I decided to share it here.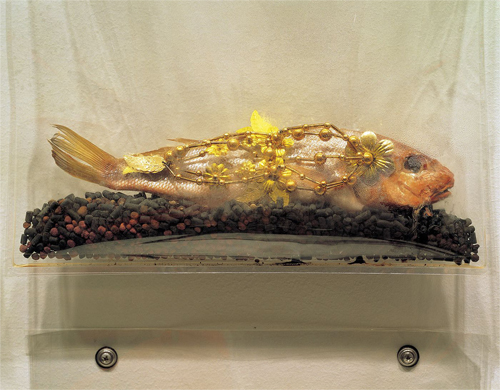 What you are seeing now is a row fish.
Decorated with pretty flowers and beads.
This art work is called "Majestic Splendor".
It
was exhibited as part of the "Projects" series at The Museum of Modern Art, New York.
It of course started smelling so bad after few days as it got rotten.
How hard you try, how much you decorate yourself, we all get old just like that row fish.
Youth and beauty never last forever.
After all, there is no point of looking pretty or beautiful at all?
But then again, what is beauty?
Does looking young mean s/he is beautiful?
After thinking about it for a while -which I do often, - I've hit the conclusion.
Because beauty depends so much on personal taste and the way people see it.
Sometimes things are beautiful and precious because they are so
fragile
and temporary.
Sometimes things are beautiful because they are strong as mother nature.
All I know is that human always has been having a desire to look good on a
visceral level.
And covering myself in an outfit I love gives me a lot more confidence.
Though as strong as I feel this
instinctive desire,
part of my head shout loudly that I should be confident even when I am in jeans and a tee-shirt.
I believe, someday, I will be able to do that too.
I will stand there with a worn out tee shirt and jeans.
And I will be smiling with
exuberant confidence

that make even wrinkles on my skin look charming.
Dress: forever21